Andrew Link Photography: How to pack your photo gear from Andrew Link on Vimeo.
7 years of shooting Automotive Editorial Photography has taught me to streamline as much as possible. One area I've simplified to fit my needs is my lighting kit. I used to rent gear wherever I could, but after you use your own gear long enough, one of the you pick up is that you almost develop a relationship with it and now I definitely prefer to use my own lights.
Of course traveling with tons of photo equipment comes with a price, the bags are heavy, fragile and usually cost a pretty penny to check on most airlines. However, I've simplified my kit into two cases that I take with me everywhere that skate under airline weight limits and allow me to take everything I'll need.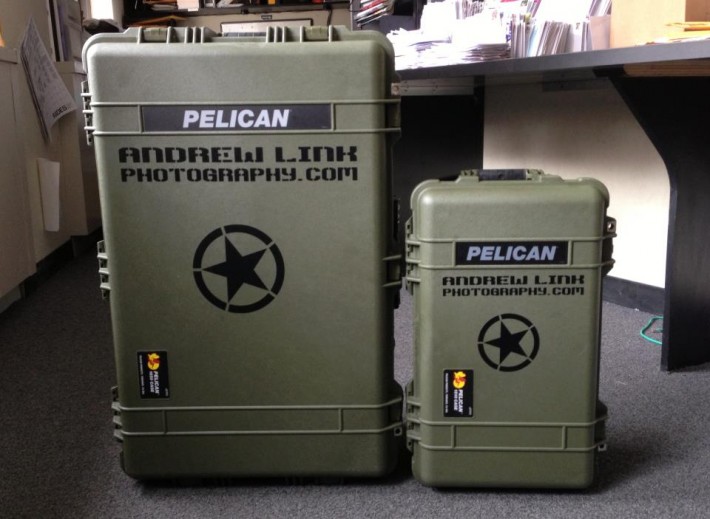 Here's my two cases the day I got them.
Automotive Editorial Photography is full of challenges. You rarely have total control over everything. Usually you're landing in a new city, meeting up with the car owner, finding a location close to where the car is located and grabbing a feature shoot fairly quickly so the owner can get back on his way. There's also the celebrity features where you'll be lucky to get more than a few minutes with the featured celeb and car. This means you'll be shooting in less than ideal conditions fairly often. You'll need to be prepared to shoot in absolutely any situation, and this is where my traveling kit comes in.
The kit consists of two main cases, a Pelican 1510 and a Pelican 1650. I chose Pelican because they're almost indestructible. Inside these cases is everything I need to shoot in any situation. I have strobes for most shots, power for the strobes when we're shooting without nearby power, my Westcott Ice Light for nighttime or indoor light painting, modifiers for celebrity portraits or model photography, and every accessory I need to make it all work.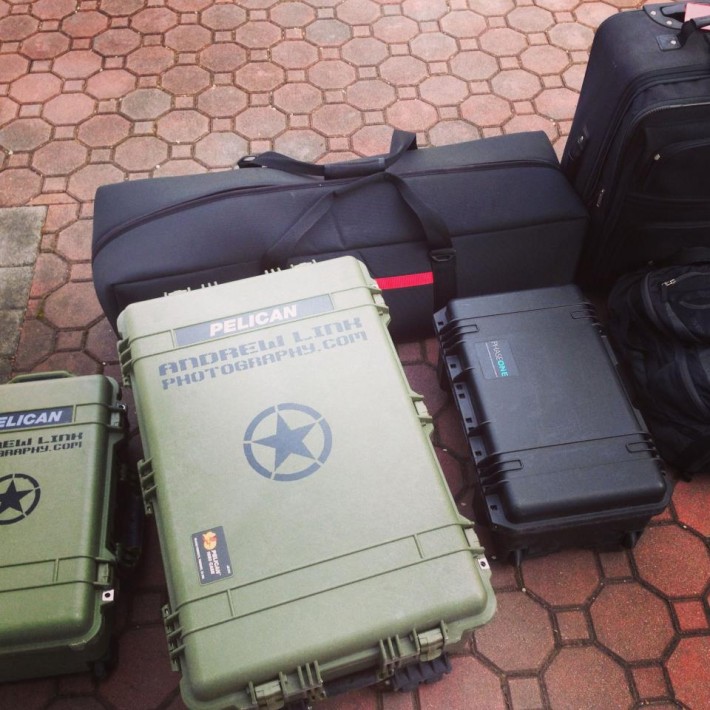 Here's the whole kit (plus a Pelican for the Phase One kit) before heading out for 10 days shooting in Japan.
I'll arrive to an airport with these two cases plus a Lightware Soft Stand Case that carries my light stands and tripod, (I'll also shove a duffel bag with my clothes in this bag), and my Profoto BatPac. I check the stand case and the Pelican 1650 and carry on the Pelican 1510 and the BatPac. The stand bag and Pelican both weigh in under 50 lbs each which is about the free limit on checked bags for most airlines. Any heavier, and I'd be coughing up tons of money in fees.
With this lighting kit I can travel with confidence knowing that I can handle any situation that may present itself. While this may be MY perfect light kit, it may not be everyone's. That said, I'm always interested in how other shooters work, let me know in the comments what YOU bring when you travel!